Our goal is to establish an excellent and internationally competitive research incubator at the Institute of Molecular Genetics, Czech Academy of Sciences (IMG) that would attract the best talents from around the world.
The incubator will incorporate the unique features of the "Dresden model" of Max Planck Institute of Molecular Cell Biology and Genetics (MPI-CBG), in particular by establishing new international junior research groups with parameters comparable to Max-Planck research groups, and by promoting exchange training programs.
Scientific teaming strategy
Identification of open research questions that can be best addressed by combining scientific and technological strengths of regions

Selection of early career researchers that will employ the synergy identification of projects with innovation potential

Creation of competitive start-up enviroment for selected researchers

Expert oversight + Evaluation of innovation potential

Fostering of technology transfer
While IMG research could be characterized as focusing on studying the molecular mechanisms of 'how genes form cells', CBG studies predominantly 'how cells form tissues'. In order to exploit this synergistically, ARIB will extend these two research foci, and focus on understanding how multiple tissues come together to form an organ. It is a frontier scientific question with tremendous translational and technology transfer potential and arguably huge socio-economic impact.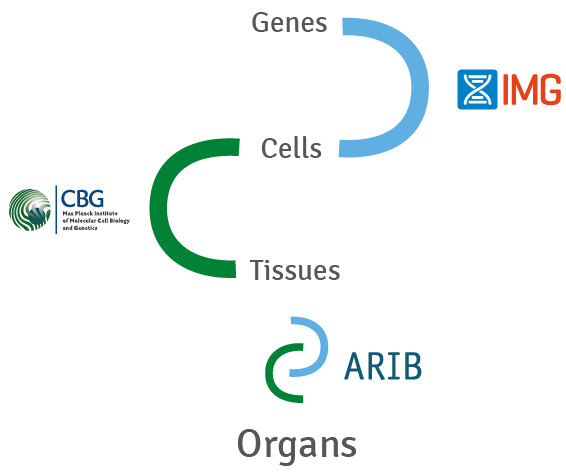 By achieving international research excellence and visibility ARIB strives that not only the IMG benefits from the ARIB project, but it also establishes the IMG as a model for research excellence and a catalyst to drive local, regional and national industry and economic development in the biosciences sector.
Scientists, entrepreneurs and regional authorities will be brought closer together and will create a culture of innovation and translation activities in a local science and technology cluster.
ARIB objectives
To attract excellent international talents
To create a joint "Moldau/Vltava" PhD and post-doc program between the teaming institutes
To enhance research at both institutes by fostering exchange and access to scientific services between the teaming institutes
To stimulate regional and inter-regional innovative businesses by generating a complete pipeline from biomedical discovery to a biotech start-up
To foster technology transfer, training and industrial partnership to reinforce the economy in the Central Bohemian region
Background of the project
The ARIB project builds upon recent investment into scientific infrastructure in the Central Bohemian region.
This project brings together interdisciplinary expertise in molecular biology, chemistry and model organism biology, including emerging organoid and xenograft models, to identify, test, and exploit new therapeutic approaches. The focus on application of molecular biology to biomedical research challenges utilises the existing high level of expertise in Prague and the Central Bohemian region.
The ARIB will be tightly linked with other research institutes, organisations and biotech companies of the Central Bohemian STAR research and innovation cluster and the Krc campus, and will create not only the environment necessary for translation of basic research results into biotechnology start-ups but will also incubate interdisciplinary innovation culture.