ARIB through a series of bilateral brainstorms of IMG and MPI-CBG faculties identified research direction of "From tissues to organs: understanding and re-engineering" as an appropriate research theme combining the strengths and exploiting synergies of IMG and MPI-CBG, and, moreover, addressing attractive and important European challenge in human health.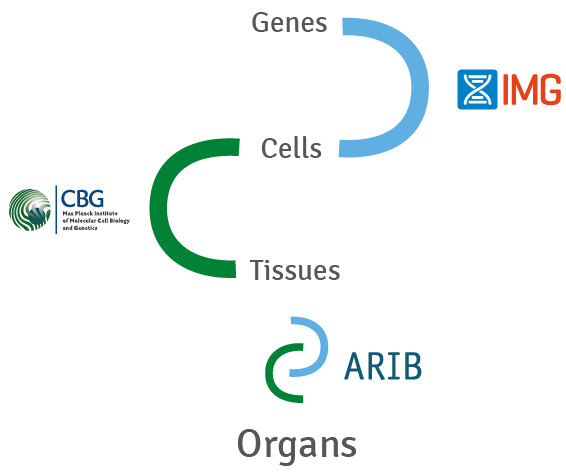 IMG research could be characterized as focusing on studying the molecular mechanisms of 'how genes form cells', whereas MPI-CBG research focuses rather on 'how cells form tissues'. ARIB could either bridge these two research foci, i.e. focusing on 'genes to tissues' and/or extend it to organs – 'how tissues form organs'.
Primary objective will be to study principles of organ formation mechanistically using 3D cell culture, organoid and animal models to exploit the range of expertise in cell and developmental biology available at IMG and MPI-CBG.
Emphasis will be given to the open question of guiding tissue development towards greater complexity by bringing multiple tissues together (i.e. providing vascularization, innervation and immune cells). This will be achieved through integration of 3D tissue printing and microfluidics.
Organoid and other models will be used to generate disease models, screen for biologically active compounds, profile normal and aberrant organ development by imaging and molecular analysis and explore regenerative medicine approaches in rodent models.
Large National Research Infrastructures are an integral part of the strategy providing key technologies:
in rodent models (Czech Center of Phenogenomics, CCP)
biologically active compound screening (CZ-OPENSCREEN)
advanced bioimaging (Czech-BioImaging)
The ARIB research agenda has also a range of synergies with BIOCEV research programs.
The research agenda has strong translational potential (i.e. developing technological spin-offs) and if successful in the long term could have unprecedented socio-economic impact (i.e. artificial organ formation).